On November 9, the "good play" that Vice Premier Wang Yang of the State Council called on the 8th was really staged. The China-US Entrepreneurs Dialogue was held in the Great Hall of the People on the 9th. President Xi Jinping and US President Trump personally attended the China-US Entrepreneurs Dialogue and witnessed the signing ceremony. According to Weibo's news that the country is a through train, Minister of Commerce Zhong Shan said at the dialogue meeting that under the correct leadership of the two heads of state, the two countries have created miracles in the past two days, and the amount of economic and trade cooperation reached 253.5 billion. Dollar. This has not only created a record of Sino-US economic and trade cooperation, but also set a new record in the history of world economic and trade cooperation. According to the website of the Ministry of Commerce, during Trump's visit to China, US Secretary of Commerce Ross led a trade delegation composed of 28 US corporate CEOs. Today, President Xi Jinping and Trump attended the closing ceremony of the China-US Business Dialogue and delivered a speech. Yesterday, Vice Premier Wang Yang also held a working meeting with US Secretary of Commerce Ross. The two sides exchanged in-depth views on issues related to China-US economic and trade relations. After the talks, Vice Premier Wang Yang and Ross and Minister of Commerce Zhong Shan jointly witnessed the signing of some of Trump's business results in China. According to statistics, during President Trump's visit to China, the two companies signed a total of 34 cooperation projects at the two signing ceremony, amounting to 253.5 billion US dollars. The two sides have achieved fruitful business results, both trade projects and two-way investment projects; both goods trade and service trade, involving "One Belt and One Road" construction, energy, chemical, environmental protection, culture, medicine, infrastructure, smart cities, etc. field.
1. China Aviation Equipment Corporation and Boeing signed a total agreement value of more than 37 billion US dollars
to
purchase Boeing aircraft.
According to the website of China Aviation Equipment Corporation, on the 9th, under the witness of President Xi Jinping and President Trump, China Aviation Equipment Group The company and the US Boeing Company signed a volume purchase agreement for 300 Boeing aircraft in Beijing, including 260 B737 series, 40 B787 series and B777 series aircraft, with a total value of more than 37 billion US dollars.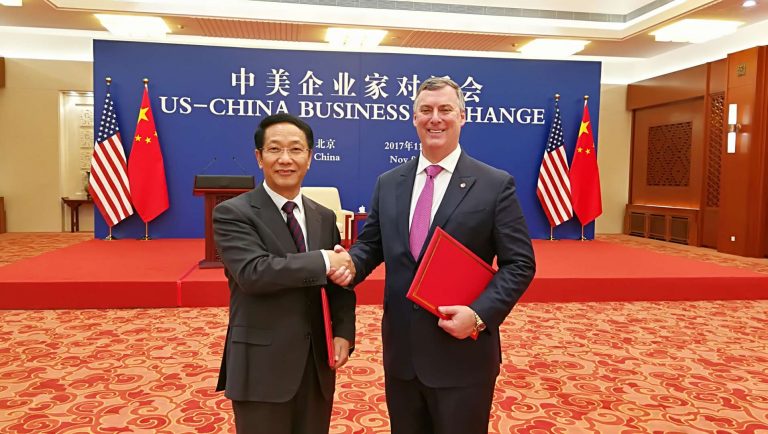 In recent years, China's air transport market has grown rapidly. In order to adapt to the situation of the air transport market, meet the development needs of enterprises, and make overall plans for the domestic aircraft production schedule, relevant enterprises continue to expand capacity, optimize the fleet structure, and purchase a batch of Boeing aircraft in bulk.
2. General Electric: signed three commercial agreements with Chinese partners, with a total value of 3.5 billion US dollars.
According to news reports, on the 9th, the world's largest industrial giant, General Electric (GE) announced that US President Trump visited China for the first time. During the period, GE and its Chinese partners signed three commercial agreements in Beijing with a total value of US$3.5 billion. The agreement covers the latest technologies and solutions from GE Aviation Group and Power Generation Group. The agreement was signed by Jixiang Airlines to order GEnx engines for its Boeing 787 fleet. Jixiang Airlines, a subsidiary of JuneYao Group, reached an agreement with GE to order GEnx engines for its new 10 Boeing 787-9 fleets. Auspicious Airlines also signed a 15-year TrueChoiceTM overhaul agreement with GE Aviation, which will provide maintenance, repair and overhaul services for the GEnx-1B engine. The total value of the contract is $1.4 billion (catalog price). The aircraft will be delivered from 2018. "Most of the aircraft in our fleet are powered by CFM engines (produced by CFM International, a joint venture between GE and Safran Aircraft Engines)," said Wang Junjin, chairman of JuneYao Group. "These products perform very well, and the CFM and GE teams have always provided us with good support. We believe that the GEnx engine will continue to help us make profits on the newly expanded international routes." The second agreement is ICBC Leasing ordered the CFM LEAP-1B engine for its Boeing 737MAX aircraft. Industrial and Commercial Bank of China (ICBC) subsidiary ICBC Leasing and CFM International today (November 9) reached an agreement to order 80 LEAP-1B engines for their 40 Boeing 737MAX aircraft. The engine has an order value of $1.1 billion (catalog price). ICBC Leasing will begin receiving the aircraft in 2018. CFM International is the world's largest manufacturer of commercial aircraft engines. It is a 50% joint venture between Snecma and General Electric of France Safran.
In addition, GE also signed a "package" project cooperation agreement with Datang Group.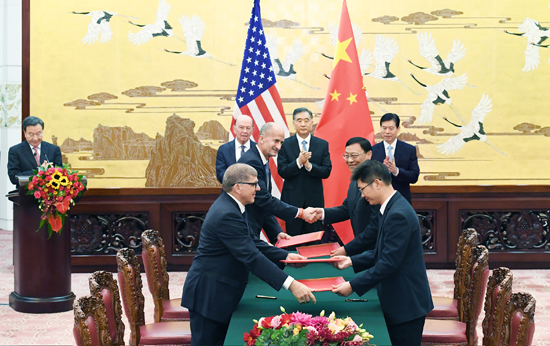 Under the background of new requirements and new heights of energy development, GE and China Datang Corporation signed a "package" project cooperation agreement. The main areas of cooperation include: digital platform construction based on industrial internet technology, energy-saving transformation and coal-to-gas conversion The project will reduce the emission of coal-fired units, build regional smart energy, realize the problem of burning coal and burning with multi-energy complementary distributed energy, promote the efficient use of clean energy, and deepen the construction of gas turbines. The signing of the contract further deepened the strategic partnership reached between the two parties. The two sides will give full play to their leading advantages in the industry to support the transformation of China's energy industry into efficient, clean, innovative and digital. Chen, the party secretary and chairman of China Datang Corporation, said: "The cooperation between the two sides is actively integrated into a new pattern of comprehensive opening and opening up a new all-round strategic situation."
Ash Vacuum Cleaner,Industrial Ash Vacuum Cleaner,Cr1513 Ash Vacuum Cleaner,Best Hot Ash Vacuum Cleaner
Jinan Huancheng Heating Equipment Manufacturing Co., Ltd. , https://www.globalstove.com